Thursday Evenings 7:00pm - 9:00pm October - April
First United Church
223 3rd Ave NE Swift Current, SK
For more info or to join: John (306) 421-8295
Dwayne (306) 750-0925
Dancing is likely not your first thought when planning an exercise program, but perhaps it should be included.
Saskatchewan Square & Round Dance Federation
coordinates clubs in all major urban centers.
Round dancing (cued ballroom dance)
, Clogging (cued line/tap dance) and square dancing can provide a variety of exercises. Square dancing, my favorite, has changed a great deal over the years. For many, their first contact with square dance was probably in grade five, when the teacher insisted you hold hands with a girl or boy.
Modern square dance consists of ten levels of complexity using over one hundred moves. Dancers have to listen closely as the caller decides what the next move will be. This provides brain exercise as we try to remember each figure and where to move next. There is lots of physical exercise with the added benefit of low impact on joints. Many years ago, Mayo Clinic claimed that
two hours of square dance was equivalent to five miles of walking
. Today we can check that through your FitBit counter. Perhaps the most important exercise is the social fun and laughter we have when someone flubs a move or occasionally when all eight break down.
Flair skirts and big crinolines are gone, it's come as you are to dance. Please join us through any of the dance clubs - square,
round
or clogging.
Learn the Square Dancing Basics
About Modern Square Dance
Many learned square dance in school. At that time about 25 calls were used, often repeated frequently.

Now there are 64 calls in the mainstream level and many more as you progress above that.

The caller will mix calls so that you don't know the next move until it is given.

You don't need a partner. Many calls are transitioning to centres and ends rather than man and women.
Benefits of Square Dancing
Square dance is based on figures – not foot steps.

Challenges both the body and brain.

Many mental and physical benefits to having fun, working together and moving around!

An evening of square dance equals walking 3-5 miles and burns about 400 calories.

(Source: Mayo Clinic)

Square dance is easy on the joints with no heavy steps.

No special equipment needed – just comfortable shoes. No poofy dresses required.

Very inexpensive
It is preferable to take some lessons but our club tries to blend new dancers in with others quickly.

You learn to dance by dancing. It is more satisfying to do a full dance rather than just a lesson.

Each call is a small segment of a larger figure so learning is quicker and easier.
Square dancing around town!
Dancing at Market Square in Downtown Swift Current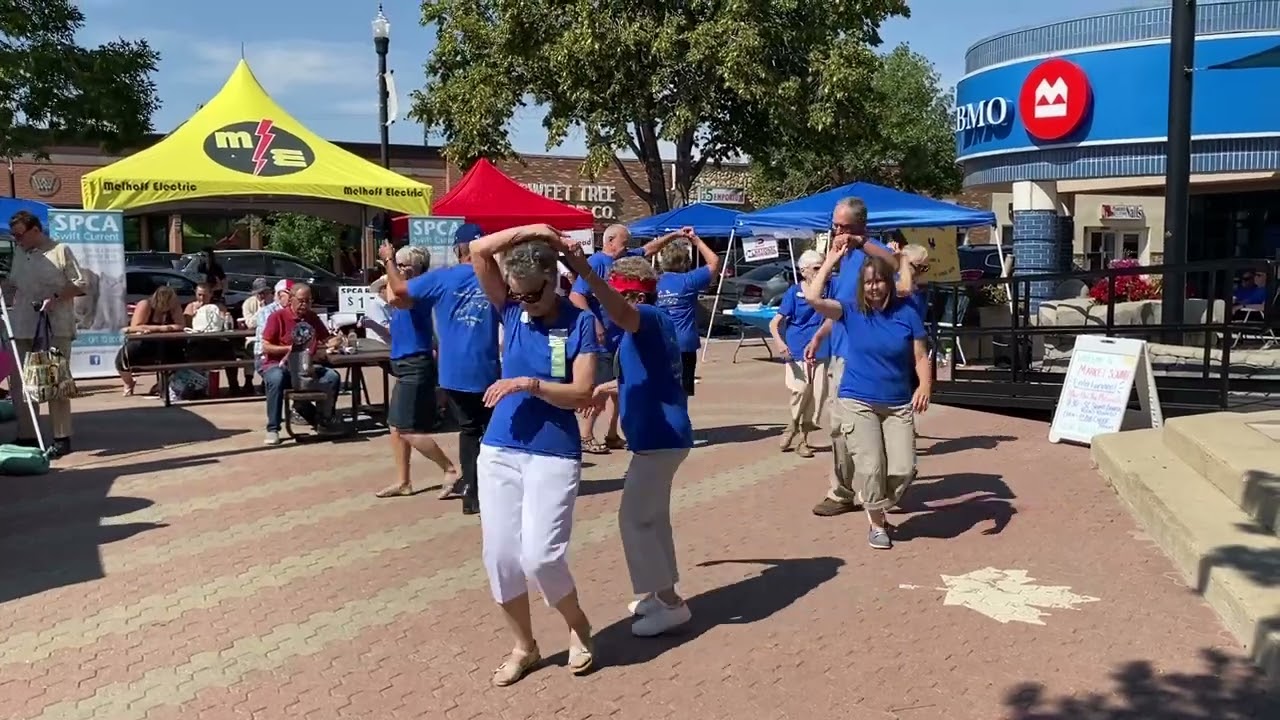 Why walk when you can square dance!